This morning, I woke up feeling insecure and my anxiety was turned up to 11. I saw on Facebook that they had been working at 555 yesterday, but I'd missed it. I asked about today's plan and Fujii-san said he thought they'd be gathering again but he didn't have any details.
I am acutely aware of how unwanted my presence can be. I'm hard to communicate with! I don't know how to do most tasks that everyone else learned growing up. I have the wrong work clothes and shoes. My tools are inadequate. I am weird and kinda jama. So maybe they intentionally excluded me yesterday.
But I really want to be part of this clean-up experience for my own peace of mind and to build credit as a future member of this village. So in mid-morning, I stopped by to see the scene and I talked to Mrs. Kawasaki. I arranged to return after lunch to help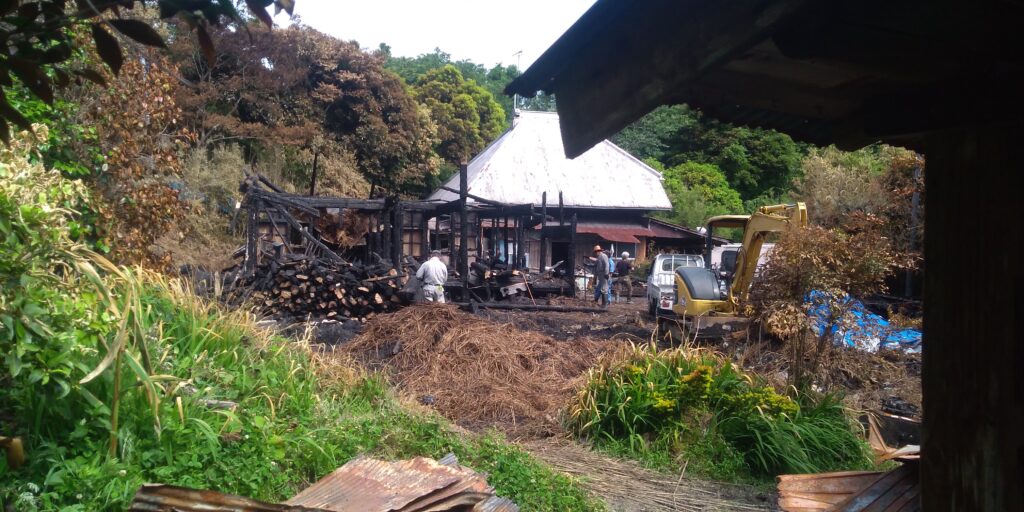 At 1 o'clock, I arrived dressed in my best coverall (my only coverall) with my only pair of gloves. I spent a few hours helping to tidy up. I hauled charred beams, scouted for metal, picked up broken dishes, dug through the remains of the genkan looking for keys and other items. I am happy to report the motorbike key and the yumbo key were both found over in a metal box where the dining room sideboard had been. Yatta!! The tractor key was…in the tractor, apparently.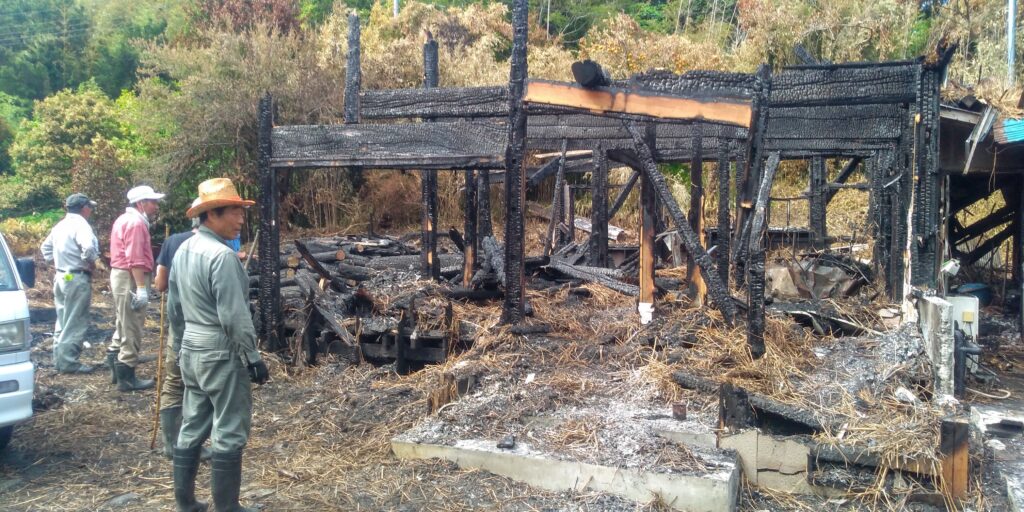 The Kawasakis, their daughter and son-in-law, and many of my future neighbors were there. I have to say, although the community in the countryside is tight – these families have known one another for generations – this group of old guys were open to welcoming a foreign woman and letting her be part of the work crew. I talked to lots of people and got much information about the house, including its name – Naka-no-Dai. All in an overload of Japanese. I understood most of it, eventually.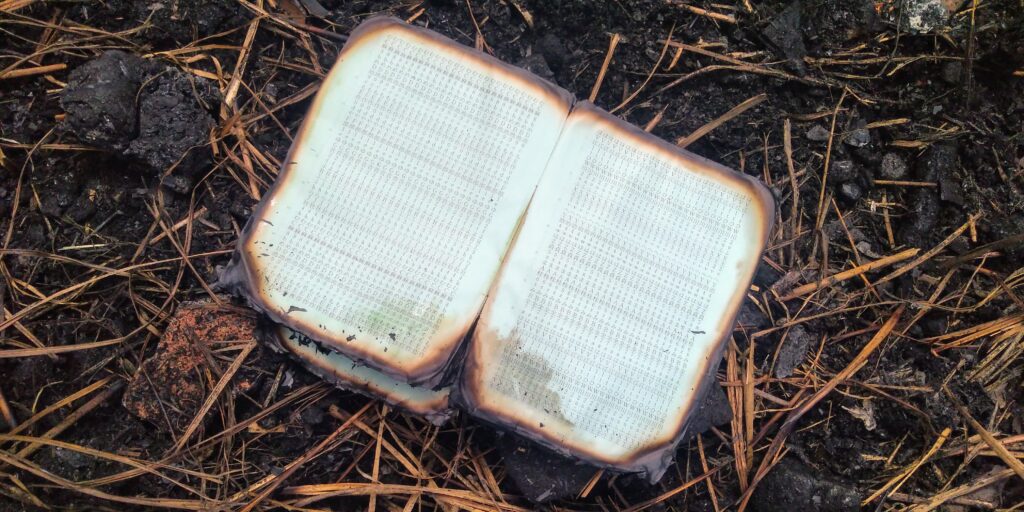 I found this mostly intact book floating on the debris pile. I was told it's a WWII code book. The first section of the book is pages with grids of empty circles for writing the message. The rest is several hundred pages like this one. The late Mr. Kawasaki was a radio guy – we found his ham call sign at the house a while back. It's gone now, but I got a picture: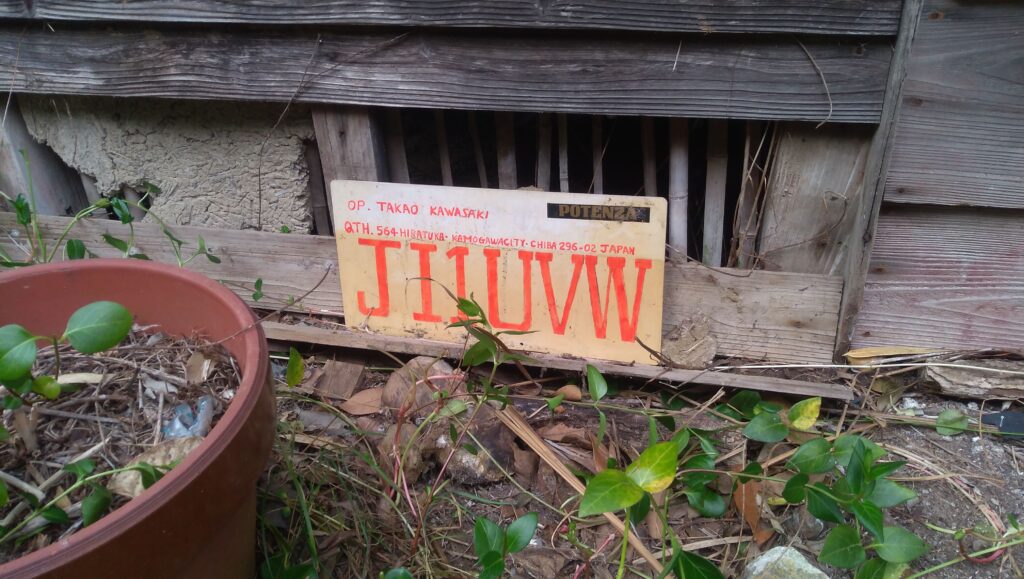 Tomorrow morning, Fujii-san is bringing over his giant incinerator and the rotating claw yumbo. The rest of the house will be razed and all the beams burned to ash. I will take some photos of the charred wood before we start so that I can draw it, and maybe collect some of the cinders to use for sumi-e.
This is how the house looked by the end of the afternoon: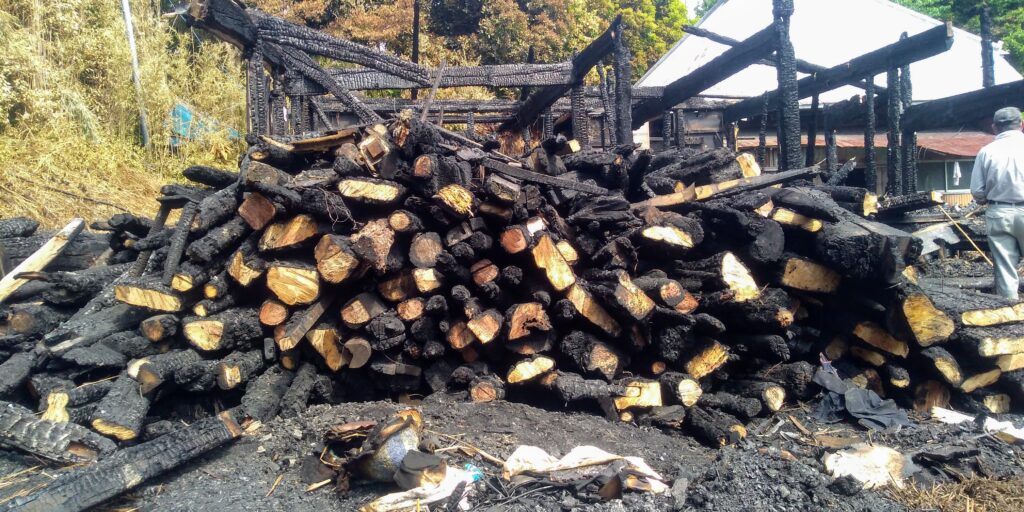 And by tomorrow, all of Naka-no-Dai will be gone. But you know what? Everyone – every single person there – asked me about our plans for a new house. It's going to be okay.