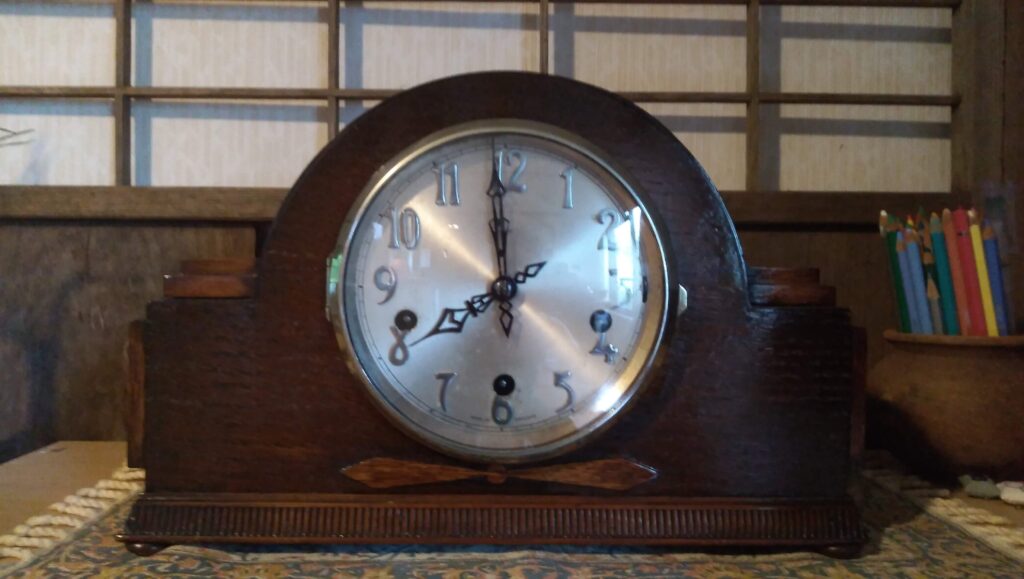 We discussed what to do for our anniversary this year. Travel is traditionally our celebration, but after 18 months of staying home during the pandemic, it's feels uncomfortable to plan a holiday. So instead, we bought a clock. Because it is our 32nd anniversary.
This one is an antique Enfield from the UK. It was made sometime between 1932 and 1947. We found it on Yahoo Auctions based on its looks. One of its chime rods is broken, so it bangs out a gappy Westminster chime. It's quirky; I'm not sure if we will fix it. Maybe someday.
We both worked on our anniversary, but took time to go out to lunch at Sato, a local restaurant we used to enjoy. Nothing fancy, just basic teishoku, but it was the first time in many months to eat out. Like the travel, it felt weird. We're fully vaccinated, but integrating back into the world is taking time.
When the our workdays finished, we were still pretty full from lunch so our dinner was simple, but we shared some wine. Tod toasted "To the next 32 years!" and it made me sad. Will we make it to our 64th anniversary? I hope so. We shall see what we shall see.
I almost forgot to snap the annual anniversary photo. This is us at the end of the day on our 32nd wedding anniversary, a little wine blurry and very sleepy, but happy.  Love you, Tod.