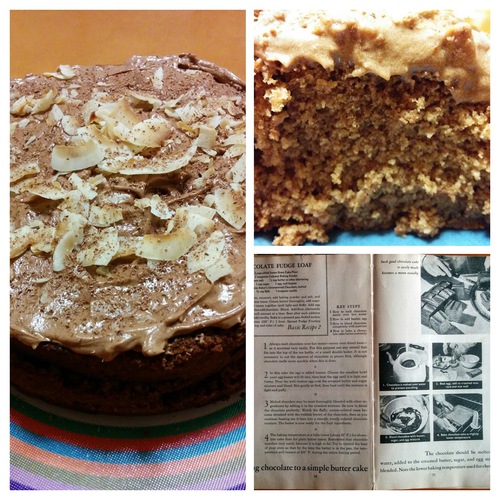 "All About Baking", published in 1933, is an excellent primer on baking with lots of lost wisdom about how to prepare pans, to set baking times, and to perfect mixing techniques in the days before electric mixers. Doing this with a hand mixer makes it so very easy. Creaming butter by hand is a good workout I am happy to avoid.
This recipe produces a light crumb with a nice chocolate flavor. I frosted mine with buttercream and topped it with coconut but the recipe suggests a chocolate fudge frosting, which I'm sure would be delicious.
Chocolate Fudge Loaf
2 cups cake flour
2 teaspoons baking powder
1/2 teaspoon salt
1/2 cup butter
1 cup sugar
1 egg
2 ounces melted baking chocolate
3/4 cup milk
1 teaspoon vanilla
Preheat the oven to 325F /160C and prepare an 8x8x2 pan (or two round pans) with butter on the bottom and halfway up the sides, plus baking paper cut to fit the bottom.
Sift the cake flour once, measure, then add baking powder and salt and sift together three times. In a separate bowl, cream butter thoroughly, add sugar gradually, and cream together until light and fluffy. Beat the egg separately until it is light and foamy, then add to the butter and sugar mixture. Beat well. Add the melted chocolate and blend until the color is even.
Add flour alternately with milk, a small amount at a time. Beat after each addition until smooth. Add vanilla. Spread batter into pan and bake for 1 hour.
Allow the cake to cool a bit, then turn out of pan to finish cooling. Frost with your choice of icing.