Tod's been cooking up a storm over his long two-week winter holiday. Over the last couple of months, we kept seeing interesting waffle recipes, so this break has been taken us from "we should try that" to "that was delicious." This is my report on Tod's tasty experiments.
Waffle #1: Cornbread with Chili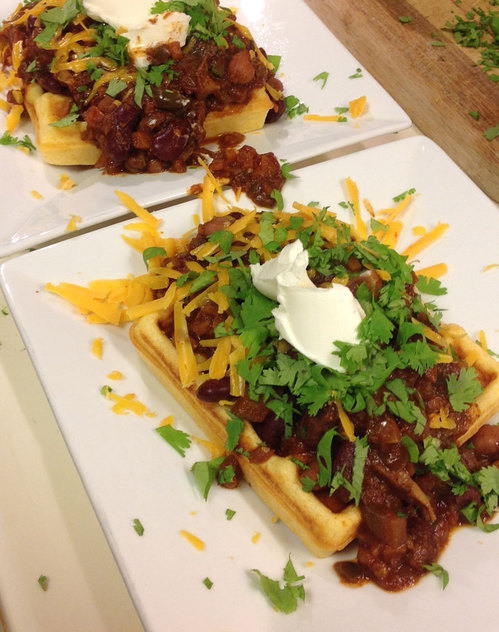 The waffles are barely visible under all the chili and toppings.
This one was based on Joy of Cooking's Northern Cornbread recipe,
http://www.foodgeeks.com/recipes/northern-corn-bread-20218
, which uses yellow corn meal and more sugar than a Southern cornbread. We figured that might be good for waffles. It worked pretty well, but next time a little less sugar and maybe a wetter batter. This was an early experiment before the winter break. After eating a dinner's worth, we froze the rest of the chili and waffles in portion packs for a rainy day (or whenever the flu arrives here).
Waffle #2: Rice Waffles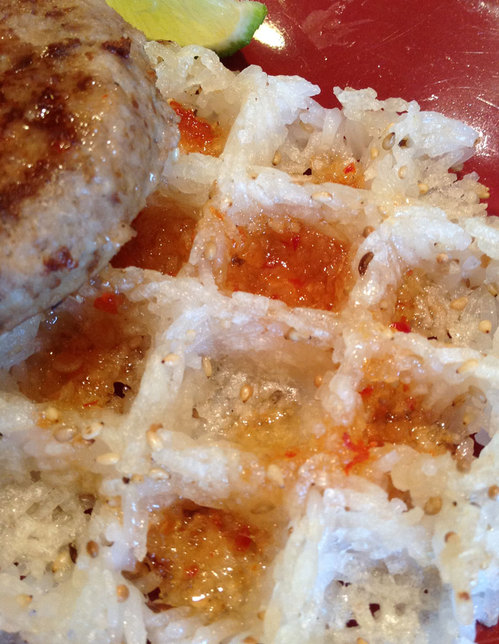 Rice in the waffle iron. Who knew?
The next waffle really kicked off the waffle experiments. We'd made a slightly overcooked batch of rice and set it aside in favor of better cooked rice. The next day, I was in charge of lunch and I pulled together a soup of leftover vegetables, this rice mixed with a bunch of seeds (cumin, mustard and sesame) and some sardine burgers I had in the freezer. With sweet chili sauce in place of maple syrup, it turned into quite a nice meal.
Rice in our waffle iron got crispy on the outside and a tiny bit brown, but stayed chewy on the inside. I'd hoped for a more brown crispiness, but it was fine. And then the waffle iron out and Tod got excited for the possibilities.
Waffle #3: Naan-ffles with Palak Paneer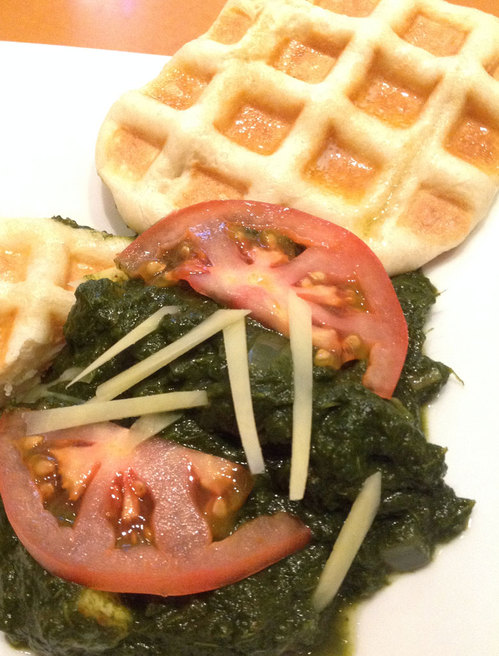 Naan-ffles with Saag Paneer, an Indian spinach and cheese curry.
I am not sure what made Tod want to try making paneer from scratch, but the grocery list was suddenly rather heavy on the milk and lemons. It worked beautifully, especially when combined with four bunches of spinach cooked into saag curry. With the waffle iron at hand, or course the naan became naan-ffles. Tod used
Manjula's naan recipe
and it turned out great. We also got to test out our oven's "soft" function for the rising. Effective!
Waffle #4: Mochi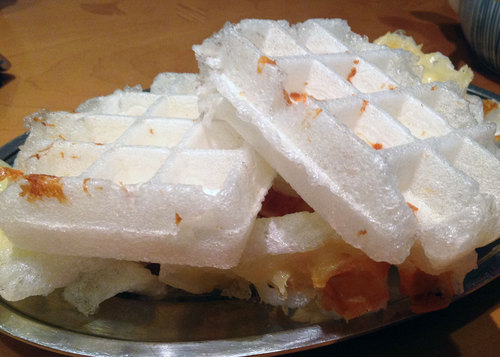 It looks like styrofoam, but it's not.
This is major magic. Mochi is a dense rectangle of rice paste that killed two people in chocking incidents over this new year. Moffle – mochi waffles – are fluffy, chewy crispy delights. If you don'd do mochi in your waffle iron, you are a fool. No recipe. Just put it in, press gently while the mochi relaxes into the squares, then let it cook for six minutes or so. We even topped ours with crappy plastic-wrapped "torukeru" cheese (the Japanese equivalent of Kraft Slices) heated on the waffle for a minute in the waffle iron. Delightful.
Waffle #5: Gingerbread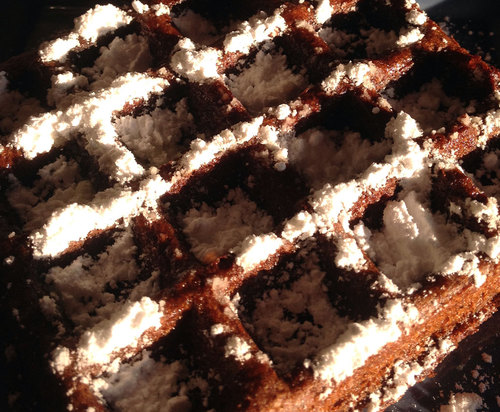 Dark spicy gingerbread. So festive!
This recipe turned up on
Smitten Kitchen
just before Christmas and it is the reason I wanted to make any waffles at all. Wow, so good with a strong molasses and spice flavor. It's a weird one, though. When you pull it out, it is floppy and soft. Once you extract it, it crisps up. We ate it as shown, with a snow of powdered sugar. Leftovers got a fancier treatment as dessert with some ice cream and chocolate sauce. Tod declared that dessert worth having again.
Waffle #6: Hash Browns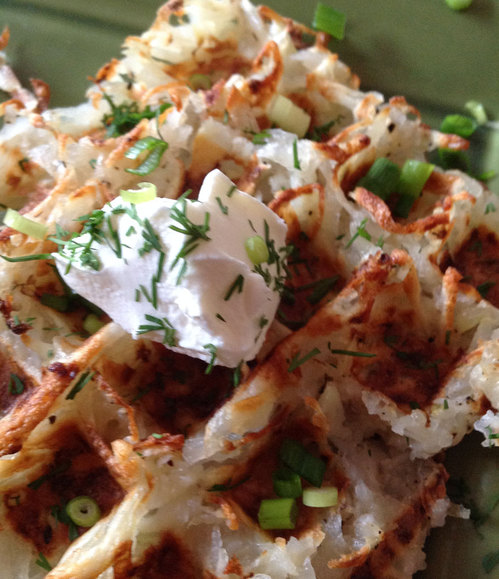 Washbrowns?
We'd see a few waffle latke recipes but Tod decided to go simple and try basic hashbrowns – shredded potato with onion – in the iron. It worked pretty well. He salted the mixture and let it sweat a bit, then squeezed the liquid out. The results were crispy and well-cooked, but not easy to get out intact. There wasn't enough binder. Next time, we'll try the more battery latkes.
Waffle # 7: Wiscuits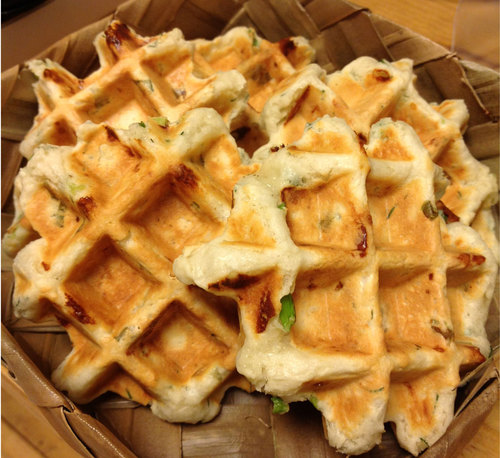 Bleu cheese and onion biscuits, wafflised.
This one was my crea
tion. I wanted to use up the leftover soup from the rice waffle day, so I made some biscuit dough. I don't use a recipe for biscuits; it's random every time. This one was 1.5 c flour, 2 t baking soda and 1/2 t salt in a bowl. Some coconut oil (3 T?) and the leftover bleu cheese yogurt dip (1/2 c?) worked in until it felt right. Then about a 1/4 c finely chopped scallions and milk until it formed a soft, wet dough. These worked really well in the waffle iron, browning nicely on all surfaces.
That is the final one of our current batch of experiments, but I think that we'll be playing more with the waffle iron.