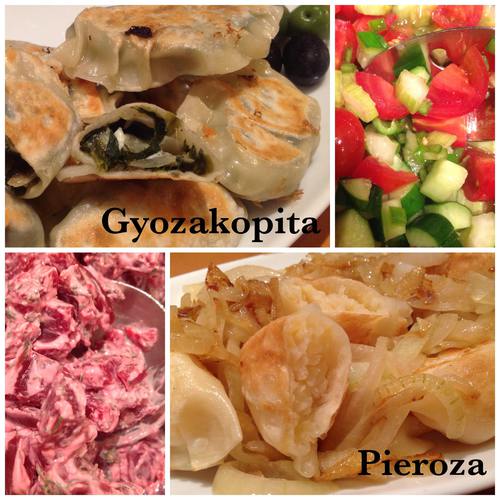 I don't know why this didn't occur to us sooner, but gyoza wrappers work well with non-traditional fillings. We've been experimenting and two of our favorites are spinach and feta (gyozakopita), and potato with sauerkraut (pieroza). You can use your favorite spanikopita or pierogie recipe, or try ours.
Gyozakopita Filling
1 onion
1 clove garlic
2 bunches spinach
1 Tbsp dried dill
handful of fresh aromatic herbs, like oregano and thyme
pinch nutmeg
50 gr feta cheese, crumbled
Chop the onion & garlic into small pieces. Saute until golden. Rinse and shred the spinach; add to the pan with the onion and allow to cook down. Remove from the heat and drain the excess water from the pan. Stir in the herbs, nutmeg and cheese. Season to taste. Allow to cool.
Pieroza Filling
2 large potatoes
1/2 cup sauerkraut
1/4 cheddar or cottage cheese (optional)
salt & pepper
Steam or boil the potatoes and mash them. Add the sauerkraut and optional cheese. Season to taste. Allow to cool.
Assemble & Fry
15-20 wrappers per filling
water
oil
Spoon a bit of filling onto the gyoza wrapper. Wet your finger and run it around the edge before folding the wrapper in half and fluting the curved edge. Make all the gyoza before you start frying.
In a fry pan, heat some oil and place a layer of gyoza close together. When the bottom of the gyoza are crispy and brown, add some water and cover with a lid to steam them. Tod likes to turn them to get two crispy brown sides before steaming them, but turning is optional. When the water evaporates, remove the lid and let the gyoza fry a bit longer in any remaining oil.
Plate and serve. We like fried onions to top the pieroza and regular gyoza sauce (soy sauce, vinegar and sesame oil) for the gyozakopita. Serve with a culturally appropriate salad.